A Ministry for Our Church Family and Community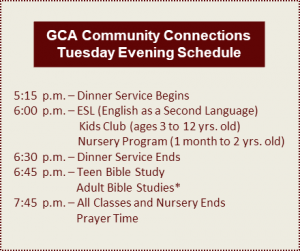 This program is designed to deepen our relationship with the Lord through Bible studies for all age groups. We purpose to reach those within the community, to impact the younger generation for Christ, and empower our witness by strengthening relationships within the GCA family.
Key Components of the Program
1. Meal Provision
2. Child Care
3. ESL – English as a Second Language
4. Kids Program
5. Bible Study
Each Tuesday evening, a nutritious meal will be served allowing you to bring your family and leave the cooking to us. Dinner is free; however, a free-will offering basket will be made available to help cover the costs.
Adult Bible Study Options
The following courses are available:
(1) THE LIFE AND PROPHECIES OF DANIEL
Taught by Jim McConnell
Daniel is perhaps the most fascinating yet frustrating book of the Old Testament. The book is both biographic and prophetic in describing the events of Daniel's life as well as the visions of future world empires and the end of the age. This course will help you discern the problems of interpretation that can often cause confusion. A faithful study of the 12 chapters will reward you with an increased understanding and love for God's Word and the coming glorious King.
(2) BIBLE PROPHECY
Taught by George Peters
Does prophecy have you scratching your head? It's important for every Christian to be informed on this subject because over one-third of the Bible is directly prophetic. This survey will help you see how the pieces of the prophecy puzzle fit together. By carefully studying this twelve-lesson course, you will gain a better understanding of God's wonderful plan for the ages. This course seeks to present in a simple manner the outline of future events. The parts of Israel and the church are reviewed and explained. The present purpose of God is explained. Distinctions between the two resurrections are made and the rapture of the saints identified. The return of the King, the earth's golden age and the eternal state are brought into focus.
(3) BIBLE DOCTRINES, PART 2
Taught by Pastor Brian Grant
This 2-part course will guide you through a topical study of the major teachings (doctrines) of Scripture, referencing many relevant verses and passages relating to each doctrine. With an open Bible and an open heart, you will indeed profit from learning what the Scripture teaches about angels, man, sin, salvation, the church, and future events in Part 2.
(4) PROTECTED BY GOD'S PROVIDENCE (For Ladies Only)
Taught by various GCA Ladies
Do you sometimes think it would be easier if we could hear and believe God if we could see Him face-to-face? Do you ever doubt His protection and work in your life? Even when life seems very dark, God continues to work and to orchestrate the circumstances in our lives. As we study this intriguing book of inspired scripture, we will learn much of God and the way He continues to work in human lives. We will be convinced that He remains in control of our circumstances even today.
Registration is required to properly plan for meals and other programs we provide. Please register, spread the word, and join us in prayer that God would use this program to bring great glory to His name.