A Ministry for Our Church Family and Community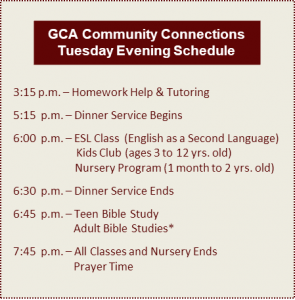 This program is designed to deepen our relationship with the Lord through Bible studies for all age groups. We purpose to reach those within the community, to impact the younger generation for Christ, and empower our witness by strengthening relationships within the GCA family.
Key Components of the Program
1. Homework Help & Tutoring
2. Meal Provision
3. Child Care
4. ESL Class – English as a Second Language
5. Kids Club Program
6. Bible Study
Each Tuesday evening, a nutritious meal will be served allowing you to bring your family and leave the cooking to us. Dinner is free; however, a free-will offering basket will be made available to help cover the costs.
Adult Bible Study Options
The following courses are available:
(1) DISCOVERING THE JOY OF JESUS: A GUIDE TO PHILIPPIANS (For Ladies Only)
Taught by various GCA Ladies
This small group study reveals the Bible's book of joy. The Apostle Paul's words in the book of Philippians share the secret of joy, a life centered in Jesus Christ. Open-ended discussion questions, Bible passages, helpful explanations and applications point readers to the godly characteristic of joy, a quality that transcends happiness based on circumstances.
(2) MY GOD AND I: SELECTED PSALMS
Taught by George Peters
The book of Psalms is a collection of 150 Hebrew poems that has been the devotional favorite of God's people down through the centuries. In the Psalms, believers expressed their hearts to God. And even though their circumstances differed so much from ours today, we can readily identify with their writings because they express man's inmost feelings. May your study of these psalms open your eyes to the character of God in relation to your own heart and life.
(3) REVELATION
Taught by Jim McConnell
We are living in momentous days. Even those who do not believe the Bible are using Biblical words to describe events around us. There is a feeling abroad that something has to happen, that we are moving towards some type of climax in world events. What does the Bible say about days such as these? Are we in the last days? Does the Bible shed light on what's to come? It certainly does. The book of Revelation unveils what lies ahead.
(4) BIBLE DOCTRINES
Taught by Pastor Brian Grant
This course takes us on a deeper dive into some of the most important teachings of Scripture. You will profit greatly as we explore Bibliology, Theology proper, Christology and Pneumatology. Whether or not you're familiar with these terms, you are sure to be blessed as you come with an open Bible and an open heart.
Registration is required to properly plan for meals and other programs we provide. Please register, spread the word, and join us in prayer that God would use this program to bring great glory to His name.