A Ministry for Our Church Family and Community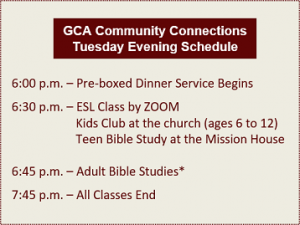 GCA Community Connections will be held on Tuesdays from September 29th to December 1st; the ladies Bible study is held on Wednesdays at 8 p.m. by ZOOM. This program is designed to deepen our relationship with the Lord through Bible studies for all age groups. We purpose to reach those within the community, to impact the younger generation for Christ, and empower our witness by strengthening relationships within the GCA family.
Key Components of the Program
Online registration is required.
1. Meal Provision
2. Kids Club Program
3. Teen Bible Study
4. ESL Class (English as a Second Language)
5. Adult Bible Study