A Ministry for Our Church Family and Community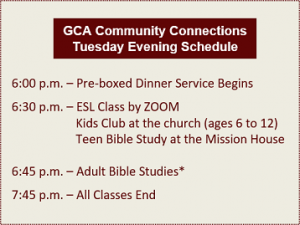 GCA Community Connections will be held on Tuesdays from September 29th to December 1st. This program is designed to deepen our relationship with the Lord through Bible studies for all age groups. We purpose to reach those within the community, to impact the younger generation for Christ, and empower our witness by strengthening relationships within the GCA family.
Key Components of the Program
Online registration is required.
1. Meal Provision
2. Kids Club Program
3. Teen Bible Study
4. ESL Class (English as a Second Language)
5. Adult Bible Study
1. Meal Provision
Each Tuesday evening, pre-boxed dinners will be served in the Fellowship Hall. Mask-wearing is required and social distancing observed. Dinner is free; however, a free-will offering basket will be made available to help cover the costs.
2. Kids Club Program
The GCA Kids Club program is for children ages 6 to 12. The club offers two classes at the church, a cooking and arts & craft class.
3. Teen Bible Study
The Teen Bible Study group will meet at the Mission House located across the street from the church.
4. ESL Class
ESL (English as a Second Language) classes will be held by ZOOM. Participants will be sent the meeting link, ID and password information after contact information is received.
5. Adult Bible Study Options*
The following courses are available:
(1) THE BOOK OF JONAH
Taught by Pastor Brian Grant at the church
Jonah is one of the most recognized books of the Bible and is certainly the best known of the minor prophets. While most remember the story of the great fish, the work of our great God often gets overlooked. This study gives us a picture of a man on the run due to his own selfish desires. Can you relate?
In these sessions, pastor and author Dr. Eric Mason expands our vision to see that Jonah's story is our own. So climb aboard and settle in as we discuss how God uses extraordinary circumstances to break our hearts of selfishness, convince us of His tender care, and conform our lives to His glory.
(2) THE SECOND LETTER OF PETER AND JUDE
Taught by Elder George Peters by ZOOM
Peter wrote two letters to the Christians in the five provinces of Asia Minor. In his second letter to them, he warns of false teachers from within the church. He also reminds them of the basic truths of their faith and stimulates them to grow spiritually. Jude was the half-brother of the Lord Jesus and believed in Him sometime after His death and resurrection. The Book of Jude is devoted entirely to the subject of apostasy or "falling away" from the truth and was written sometime after Peter wrote his two letters. Peter warns the believers that false teachers are coming; Jude says that they have already come.
(3) PROVERBS FOR LIFE
Taught by Elder Jim McConnell by ZOOM
How do we live our lives in this complex world with competing voices on every hand? Where can we turn for reliable and practical advice? The Book of Proverbs, written by King Solomon, is that inexhaustible source of godly wisdom for how to live as an overcomer in this broken world.
(4) BECOMING A WOMAN WHOSE GOD IS ENOUGH (For Ladies Only)
Taught by various GCA ladies by ZOOM
No matter your place in life's journey, bestselling author Cynthia Heald encourages you to lay aside your self-sufficiency and embrace the woman God created you to be. As you grow and depend on the Lord, you will learn the joys of giving God control, waiting on Him with contentment, and humbly trusting Him.
(5) DEMYSTIFYING DISCIPLESHIP: A Fresh Look at the Great Commission
Taught by Dr. Raphael Thomas by ZOOM
God is at work in the world! Will you join IN? INcrease your INformation, INspiration and INvolvement. This course will challenge believers to be more passionate about God's mission in the world.