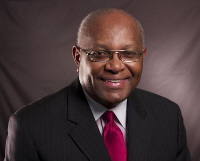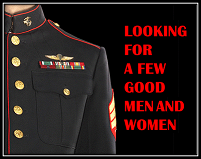 After the attack on Pearl Harbor, the US military was deluged with volunteers. Elderly men, boys too young to fight and even the blind were offering their services. One elderly man said, "I'd consider it my greatest privilege to die defending this country."
God's army is also seeking volunteers, but sadly not many are lining up to enlist. And yet this army fights for the greatest cause in human history; to rescue those enslaved by sin so they can find freedom and salvation in Christ. What an honor to be part of this army.
We have all heard the military commercial, "We're looking for a few good men." God also seeks a few good men and women; young people and adults who are willing to make a total commitment to Him. He is not looking for a person with special training or background but just for ordinary people who will make a full commitment to him. He's looking for folks like us!
Dwight L. Moody was a poorly educated shoe salesman who felt called to preach the gospel. He and his friends were praying in a hay field when his friend Henry Varley said, "The world has yet to see what God can do with a man who is fully and wholly consecrated to Him." Moody was challenged and prayed, "God, use me!" God answered this prayer and did extraordinary things through this ordinary man. He became one of the greatest evangelists and founded Moody Bible Institute in Chicago, which continues to train and send out men and women to impact the world for God.
Gideon was another ordinary man; a farmer who had no desire to be anything more. But God had a different plan; His plan would turn this farmer into one of Israel's great heroes. In Judges 6, the LORD appeared to Gideon and said, "The LORD is with you, mighty warrior." Gideon, feeling he was Mr. Nobody, responded in Judges 6:15 – "Pardon me, my lord, but my clan is the weakest in Manasseh, and I am the least in my family." Can you identify with him? Gideon would soon realize that what God could use him to accomplish had nothing to do with his "ability" but with his "availability."
Take time now to read Judges 6-8 and see how God used this ordinary man. Somehow Gideon was able to inspire 32,000 men to join the fight, but God said that was too many, even though the enemy had 135,000 men. God would eventually make him reduce the number to 300 men. Can you imagine 300 fighting 135,000? But if God is on our side we have the victory. What a wonderful assurance this is.
God likes to use ordinary people to do extraordinary things. So why not make yourself available to Him? He has great exploits for each of us and calls us today to volunteer for his army. God is looking for a few good men and women; ordinary, but dedicated people. Don't wait to be drafted. Volunteer!
Take a minute right now to talk to the Lord. Send me an email to let me know you're willing to sign up for duty today.
Be blessed,
Bro. Brian